If you would like to make an appointment with us you can do so by filling in the form in the left hand column. A member of our team will then be in touch as soon as possible.
Opening hours
Monday

8:45am – 5:00pm

Tuesday

8:45am – 5:00pm

Wednesday

8:45am – 5:00pm

Thursday

8:45am – 5:00pm

Friday

8:00am – 4:00pm
Our address
The Gallery Dental Practice
The Chapel
Broad Street
Cuckfield
West Sussex
RH17 5LJ
Tel: 01444 416171
[email protected]
Location
Emergencies
In case of a dental emergency, please call us as early in the day as possible. This will give us the best chance of seeing you as soon as possible.
If your dental emergency occurs outside of surgery hours, please call the practice number on 01444 443376 or 01444 416171 and listen to the instructions on the recorded message.
---
Directions from Crawley and Horsham
Miles
Directions
Miles
0.00
Start out on Beeches Crescent
0:00;
0.05;
Turn right onto Brewer Road
0.05
0.04
Turn left onto Malthouse Road
0.09
0.04
At T-junction turn left onto the A2219
Signposted Horsham
0.29
0.45;
At T-junction turn right onto the A2004 Signposted Brighton
0.76
0.04
At Southgate Roundabout take the 1st exit onto the A23 Signposted Brighton
0.80
0.99
At roundabout take the 3rd exit, then merge onto the A23 Signposted Brighton
1.78
5.59
Branch left, then at roundabout take the 2nd exit onto the A272 Signposted Haywards Heath, Cuckfield, Lewes
8.69
1.94
At mini-roundabout turn left onto the A272 Signposted Haywards Heath
10.63
0.59
At roundabout take the 1st exit onto the B2036 Signposted Cuckfield
11.23
0.61
At roundabout take the 2nd exit onto Broad Street
11.84
0.06
Arrive on Broad Street at The Gallery Dental Practice
11.90
---
Directions from Brighton and Hove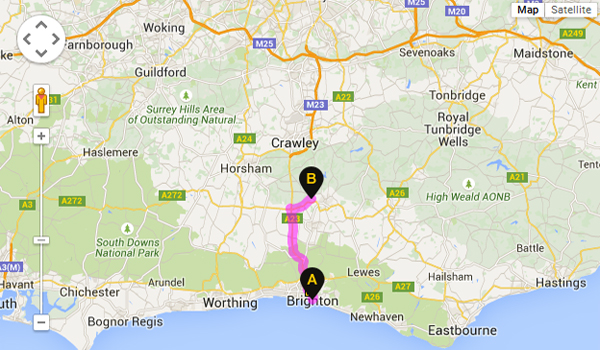 Miles
Directions
Miles
0.00
Start out on Old Steine
0.08
0.26
Bear left onto Marlborough Place – A23 (one-way)
0.34
0.26
Take left-hand lane and continue forward onto St Georges Place – A23 Signposted London, Crawley
0.34
0.18
At St Peters Church continue forward Signposted London, Gatwick Airport
0.52
0.32
At Preston Circus, traffic signals continue forward (one-way) onto Preston Road Signposted London, Crawley
0.84
0.25
Take left-hand lane and continue forward onto the A23 Signposted London, Gatwick Airport
1.09
1.45
At roundabout take the 1st exit onto the A23
2
2.71
0.82
At roundabout take the 2nd exit onto the A23 Signposted London, Gatwick Airport
3.53
9.20
Branch left, then at roundabout take the 1st exit, then at T-junction turn left onto the A272 Signposted Haywards Heath
12.73
0.42
At roundabout take the 2nd exit onto the A272 Signposted Haywards Heath, Cuckfield, Lewes
13.16
1.69
At mini-roundabout turn left onto the A272 Signposted Haywards Heath
14.85
0.59
At roundabout take the 1st exit onto the B2036 Signposted Cuckfield
15.44
0.61
At roundabout take the 2nd exit onto Broad Street and arrive at The Gallery Dental Practice
16.05;